ZQRacing 2022 Hyper Sport Series Console Napa Cyber Chair – Black [Pre-Order]
ZQRacing 2022 Hyper Sport Series Console Napa Cyber Chair – Black [Pre-Order]
or 4 payments of $224.75 with 

Your Favorite Hyper Sport Console Series is getting a major update in 2022. With Newly upgraded Napa Leather Body, Extra Large 29″ Cast Aluminium alloy Star Wheel Base, and Five years comprehensive warranty, the 2022 Hyper Sport Console offers ultimate styling and stability for many years to come.
Neck & Lumbar Cushions Included, The actural product may subject to other minor upgrades yet to be featured in the pictures.
Order Now for delivery from March 2022.
Recommend height for safety and best experience with the Intergrated legrest:  173cm (5'7″) to 183cm(6′)
You may not be able to set your feet flat on the floor if you are below the recomended height, use under desk footrest (separate purchase) is recommended in this case.
Available on backorder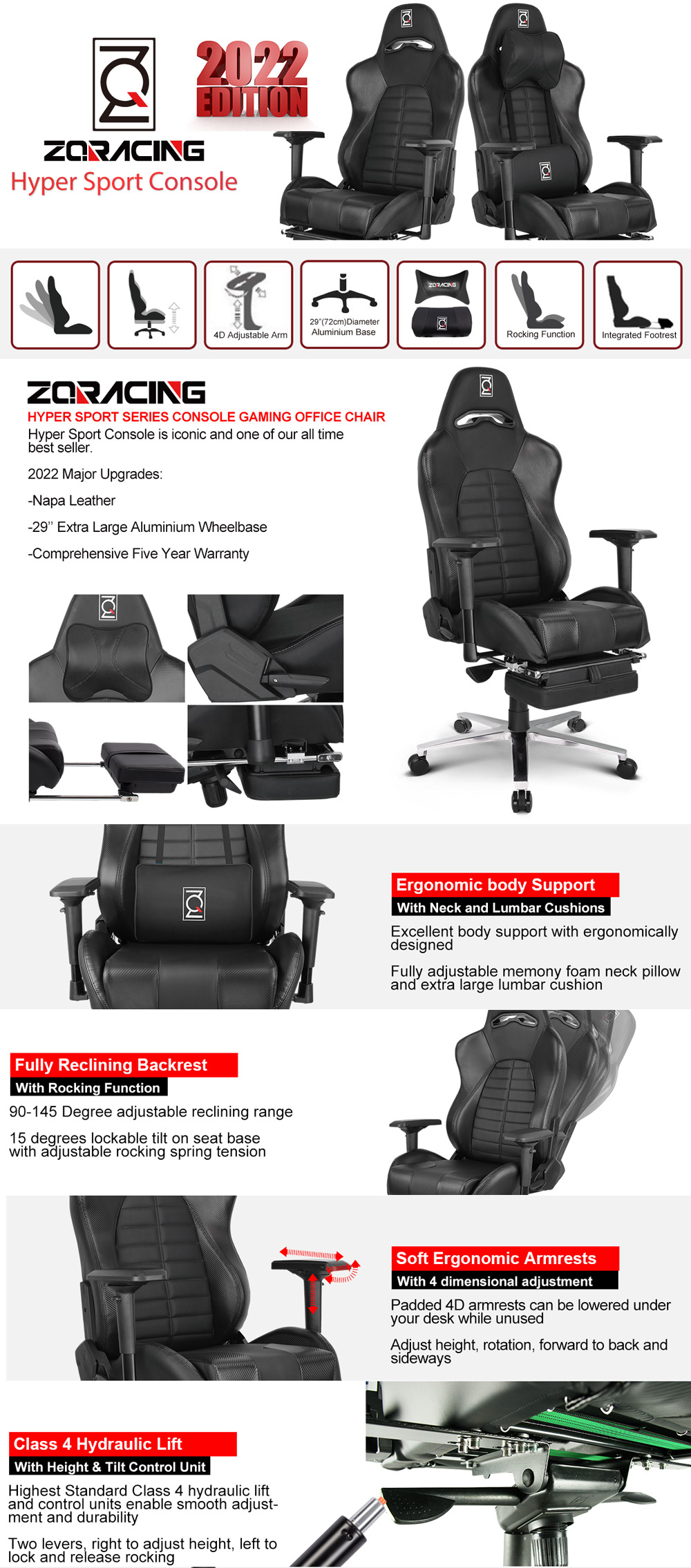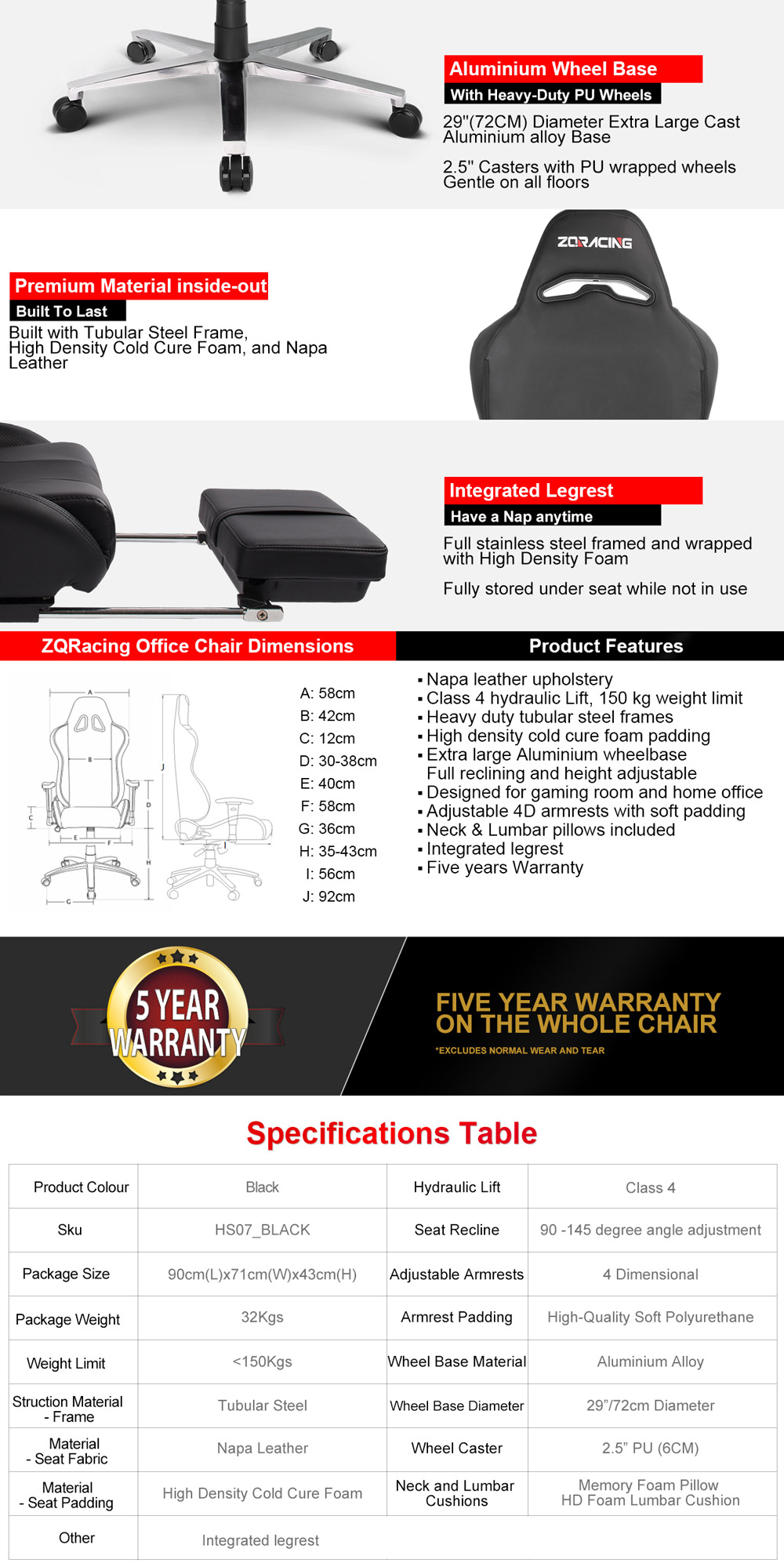 Additional Information
Detail

Measurements

Overall:   63 cm (L) x 74 cm (W) x 121-130 cm (H)
Total Height (with base):                            121-130 cm
Sitting Height:                                              47-55 cm
Width Backrest(Shoulder Level):            58 cm
Width Backrest(Waist Level):                   54 cm
Length Backrest:                                          92 cm
Backrest Adjustable(Recline):                  Yes, 85-160 degree
Width Seating Area(Total):                        58 cm
Width Seating Area(Point of Contact):  40 cm
Depth Seating Area( Total):                        56 cm
Depth Seating Area(Point of Contact):   51 cm
Width Armrest:                                                10 cm
Length Armrest:                                              27 cm
Armrest Adjustable:                                      Yes, 4 Dimension
Armrest Height Adjustable:                        30-38 cm
Rocking Mechanism:                                     15 degree Max, Resilience Tension adjustable

Features

Napa Leather, Legrest, Aluminium Wheelbase

Assembly Required?
Yes, about 15 mins
Recommended weight limit (kg)
150 Kg
Additional information
Weight
25 kg
Dimensions
90 x 70 x 43 cm
Shipping Infomation

Normally dispatch next business day from your order date if in stock.
For Pre-orders, please refer to ETA date in product description.
You will receive email confirmation when dispatch contains Delivery Tracking Information.
Standard Transit Time: QLD, NSW: 1-3 business days; ACT, VIC, TAS: 2-4 business days; SA, WA, NT: 5-8 business days.

Assembly Required?

Yes, about 15 mins

Recommended weight limit

150 Kg